Beaminster, Dorset, UK. The Ollerod Restaurant with rooms is proud to announce the arrival of the 7-year running West End Production Faulty Towers The Dining Experience to The Ollerod, Beaminster, for one night only on Wednesday 15 May 2019, 19:00
Set in the unmistakeable beautiful Dorset countryside, The Ollerod is an award-winning restaurant with rooms, headed up by former Michelin-star chef Chris Staines (Mandarin Oriental Hotel) and his partner Silvana Bandini (The Pig Hotels) re-launched in July 2018 and has since been raising the bar and transforming dining and hotel experiences for guests in Beaminster through the launch of new dining events such as wine dinners, sushi evenings, Supper Clubs and more. This 13th century country house offers guests 13 individually-styled bedrooms from cool modern to classic English, all with ensuite bathrooms, organic toiletries and the finest Italian Frette bed linen and have also recently launched their treatment partnership with Dorset business Lovegrove Essentials as they now offer guests a bespoke wellness experience on site, offering a number of treatment options.
Faulty Towers The Dining Experience has been running as a West End Production for over 7 years. This 5-star, critically-acclaimed production has travelled the world and has remained in constant demand in Australia, Europe, Ireland, Scandinavia, the UAE, and the UK since its launch in 1997. Inspired by one of the UK's greatest comedy series, this 2-hour interactive production is set in a restaurant environment where you, the diners, become the audience and where you'll have the pleasure of Basil, Sybil and Manuel in the shape of impersonating performers, serving you (and entertaining) you for the entire evening – and as one would expect, things may not always go so smoothly.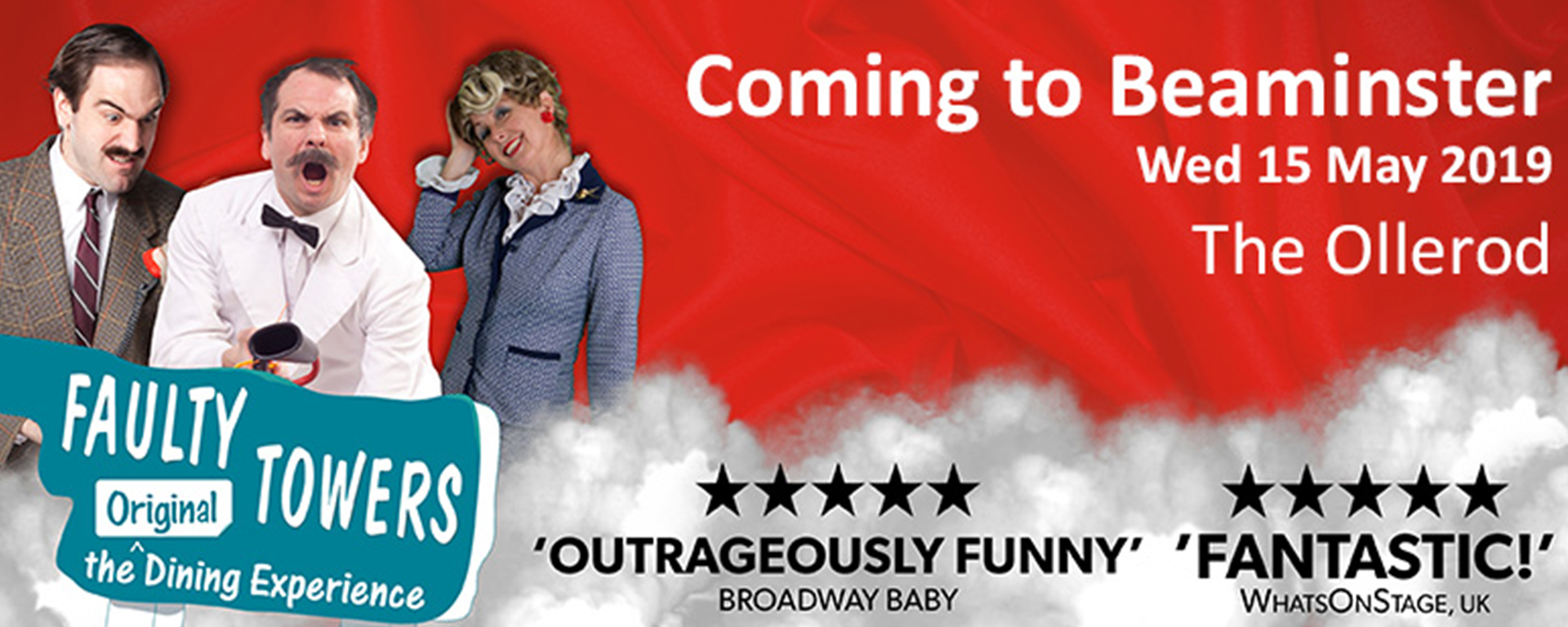 "We couldn't be more excited to welcome the team from The Faulty Towers Dining Experience to The Ollerod and to Beaminster. Since launching The Ollerod, we have been working hard to give our guests a truly unique and memorable experience when they dine and stay with us – be it through the fantastic fresh and seasonal produce we use, our ever-popular events and impeccable service that invites them back over and over again. Bringing this production to The Ollerod means that we give people another reason to visit and experience true Dorset Hospitality. We only hope that Basil doesn't decide to fire the chef," laughs co-owner Silvana Bandini.
Tickets are sold at £65 per person and includes a 3-course meal, and a 2-hour show. 50% deposit taken upon booking. Space is limited and bookings are available through reception@theollerod.co.uk / (01308) 862200.