It's officially Summer (I think…?!) and we have lots of exciting things to tell you.
On Tuesday we started building our outdoor braai (South African for barbecue) and pizza oven
*doing little excited dance as I type*
We have been planning it for months and we are delighted construction has begun. Keep an eye on our social media for progress pics 🙂
Chris is busy working on the menu, which will be available from midday to 5pm, and will include 'the gardeners delight' pizza, tuna melt flat bread (using the fabulous Black Cow Cheddar of course), giant prawns / fish of the day / yakitori sticks / steaks / asparagus and more, grilled over coals on the braai, and also some amazing salads.
To say I am excited is an understatement!
Roll on July 21st when the braai and pizza oven will have their debut at our Summer Market Festival, celebrating our first birthday as The Ollerod.

Back to June, we have two wonderful wine events coming up: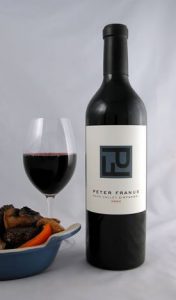 On Wednesday 12th (next week – time is flying!) the highly acclaimed winemaker Peter Franus will be joining us from Napa Valley for what is going to be a spectacular dinner.
Not only do we have Peter and his wife Deanne with us who will be talking about their wines, the vineyard and Peter's amazing journey as a winemaker, Chris is also creating a menu to surpass all menus matching with these incredible wines.
There are still a few places left, please book ASAP if you would like to come.
It is an evening not to be missed.
Wed 12th June, 7 for 7.30pm, £70 per person: 4 courses including wine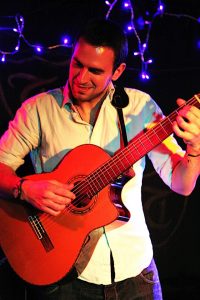 The Beaminster Festival kicks off in a couple of weeks, and we are having our own celebration on Tuesday 25th with an evening of Music, Wine and Light Bites from around the globe!
Guitarist Adam Green will be entertaining us with classics from four countries; we have selected a wine from each country and Chris is creating yummy bites to go with them.
If you fancy a bit of great live entertainment, fab wine and delicious food then book a place.
Tuesday 25th June, 7 for 7.30pm £60 per person: 4 glasses of wine, 4 small plates, live music
---
PRE SHOW DINNER
We also have our pre-theatre dinner offer available for the duration of the festival.
Running from 5pm-6.30pm, you can enjoy a set menu option which includes a light main course and a dessert for £20 per person.
Pop in if you are going to a show and don't fancy thinking about dinner beforehand.

SUMMER OF ART
We are very lucky to be in an area filled with amazing artists, and our walls are always adorned with pieces supplied by them. This summer I am handing over the picture rails as we are hosting 3 incredible exhibitions.
The 2 Valleys Art Circle, our own Beaminster / Bridport collaboration made up of 4 local artists, starts off in June with an Exhibition Opening Night on Wednesday 26th.
Sukie Woodhouse follows with her Wave Art Exhibition. Sukie creates 3-D pieces using household plastic waste, and plastic / ghost gear found on beaches.
"I feel compelled to draw attention to the rapid pollution of the world's oceans and deaths of many millions of sea creatures. I hope to bring the viewer up short. We are polluting that which is inspiring and beautiful."
Last, but certainly not least, is the Art Can exhibition, titled Wanderlust, which will be on show from 3rd August to the 28th September.
We have a few other events over the summer which are all on our website if you'd like to plan in advance. Although there is a 'surprise' event that isn't up yet….
after the immense success of the FAULTY TOWERS dinner two weeks ago (which, for those who haven't heard, was absolutely hysterical) we have decided to host another one!
I will send a Summer Update next month with everything that is going on, including the date for Faulty Towers, and a few 'braai' recipes from Chris.
If we don't see you before, then hopefully we will see you on Saturday 22nd June at The Party in The Park which is going to be a fantastic evening with Scoot keeping us entertained, lots of delicious food (including Chris'), cocktails, rides and fun.
Hope you have a fabulous weekend ahead, back to the wellies tomorrow apparently, but its good for the veg garden! 🙂
Silvana & Chris